This page has been specially created, for the purchase of branded PK Green lamps.

Scroll down to see all shapes and sizes.

All prices are per item.
Watch video
The PK Green difference
- All personalization done by hand, in our own workshop
-
Free standard shipping
in USA
-
Fast production
possible (can be under 48 hours if required)
- Large quantities kept in stock (10,000 sq foot warehouse)
- Semi-transparent inks allow light to shine through, but maintain color vibrancy
- Latest Roland printer with 8 inks -
can match brand colors closely
- Full color wrapping possible for a unique effect
Recent projects
- See recent projects on our
portfolio page
.
Cube Light Boxes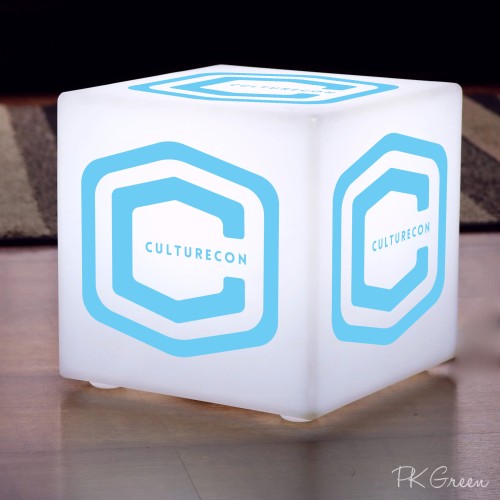 - Sizes 40cm and larger are strong enough to sit on (can be used as stools / seats).
- Full color wrap possible (entire cube wrapped in custom design / colors).
- Your choice of power source: rechargeable (wireless) or mains powered.
 
Number of sides customized
Size
1 side
2 sides
3 sides
4 sides
5 sides
Full color wrap
10cm
$110
$123
$136
$150
$164
$177
20cm
$185
$210
$237
$264
$291
$319
30cm
$256
$285
$318
$352
$385
$417
40cm
$372
$409
$450
$491
$533
$573
50cm
$541
$583
$629
$676
$723
$770
60cm
$1041
$1097
$1160
$1223
$1286
$1349
80cm
$1381
$1462
$1553
$1643
$1733
$1824

Shipping options
- Standard production (3 days) and standard shipping (3-4 days): Free within the US

- Express production (1 day) and standard shipping (3-4 days): From $95

- Express production (1 day) and express shipping (1-2 days): From $125



Love these personalized lamps from PK Green!
They gave a unique touch to our event and will help clients remember our brand.
- Michael C.
Fast delivery, great customer service.
Helped me when there was an issue placing the order, even gave me a bulk discount. Would order again.
- Robert T.
Worked wonders at my party, bought 5 and set them on different colors in different rooms. Everyone was talking about the lamps - would definitely recommend.
- Olivia R.
The customized lamp was perfect.
Rapid delivery, great service. The personalized text on the lamp makes it look very high quality.
- Emma L.
This is my third ball light from the company and would definitely buy from them again!
The items always arrive on time and work well.
- Jack K.
The personalized lights we bought from PK Green looked perfect at our event.
Everyone was talking about them.
- Matteo P.