This page has been specially created, for the purchase of branded PK Green lamps.

Scroll down to see all shapes and sizes.
Watch video
The PK Green difference
- All personalization done by hand, in our own studios in England
-
Fast production
possible (can be under 48 hours if required)
- Large quantities kept in stock (10,000 sq foot warehouse)
- Semi-transparent inks allow light to shine through, but maintain color vibrancy
- Latest Roland printer with 8 inks -
can match brand colors closely
- Full color wrapping possible for a unique effect
Recent projects
- See recent projects on our
portfolio page
.
Cube Light Boxes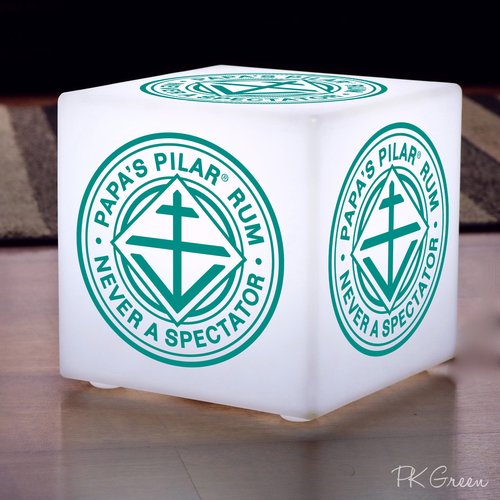 - Sizes 40cm and larger are strong enough to sit on (can be used as stools / seats).
- Full color wrap possible (entire cube wrapped in custom design / colors).
- Your choice of power source: rechargeable (wireless) or mains powered.
 
Number of sides customized
Size
1 side
2 sides
3 sides
4 sides
5 sides
Full color wrap
10cm
$81
$100
$120
$133
$146
$172
20cm
$113
$146
$178
$204
$230
$269
30cm
$152
$191
$230
$262
$295
$347
40cm
$218
$264
$309
$348
$387
$452
50cm
$322
$381
$439
$491
$543
$621
60cm
$638
$710
$781
$846
$911
$1015
80cm
$507
$598
$689
$774
$858
$988
Love these personalized lamps from PK Green!
They gave a unique touch to our event and will help clients remember our brand.
- Michael C.
Fast delivery, great customer service.
Helped me when there was an issue placing the order, even gave me a bulk discount. Would order again.
- Robert T.
Worked wonders at my party, bought 5 and set them on different colors in different rooms. Everyone was talking about the lamps - would definitely recommend.
- Olivia R.
The customized lamp was perfect.
Rapid delivery, great service. The personalized text on the lamp makes it look very high quality.
- Emma L.
This is my third ball light from the company and would definitely buy from them again!
The items always arrive on time and work well.
- Jack K.
The personalized lights we bought from PK Green looked perfect at our event.
Everyone was talking about them.
- Matteo P.